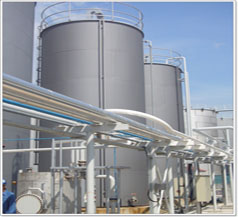 Recent Projects
Supply, construct and complete for extension to jetty elevated platform at Johor Port.
Supply of labour, materials and all else necessary equipment to repair 2600MT storage tank. The work consists of replacing new shell plate at course 11.
Construction, fabrication, site erection on prepared foundations. Testing and painting of six nos of 2600MT mild steel storage tanks c/w fabrication and installation of steam coils.
Services we offer

Tank Constructions
Expertise in construct:
Palm oil storage tank, acid and chemical tank, water/hydrant tank, fuel tank, feed water tank, hot water tank

Piping Works
Highly experience in pipelines installation and modification:
Steam and condensate lines, steam coil, palm oil, acid and chemical, water/hydrant, fuel

Steel Fabrication
Professional in construct:
Bucket strainer, oil trap compartment, walking platform, pipe gantry, acid converter, chimney, structure warehouse
About WANTAR
Wantar Engineering & Constructions Sdn. Bhd. (WECSB) was formerly known as Wanta Engineering & Constructions was co-founder in 1990 by Mr. Ang Tong Poh and Mr. Yoong Peng Leong. Since its inception, WECSB is purely active in engineering and construction work that is well managed by strong, dedicated and able construction professionals.